I'm featuring today, a question from a mom of with two preschool-aged children.
Q: Hi Teacher Tanya! The holiday season is coming up and I really want to make this a meaningful and memorable experience for my kids. What can a mom like me do?
A: Thank you for sending in your question! I can't believe that time of the year is just around the corner. I really look forward to the Christmas season. I love the preparation and all the events that happen during Christmas. I enjoy seeing my children's faces whenever they see the nice decorations everywhere. It's also the best time to be with family and to meet other relatives, too.
More than anything, I like how this time can be a good opportunity to teach my children the really meaning of Christmas- the story of Jesus and that the value of sharing and giving is more important than just receiving gifts.
As a mom, I know how challenging it is to be caught up with all the busyness of this season. I find myself reflecting on how I can make this season more meaningful for my family, especially my children. Here are 10 activities that you can do at home and start with your own family.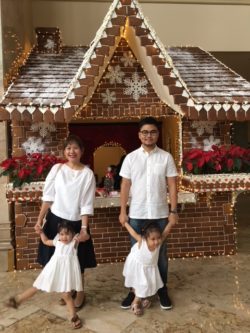 Make your own decor together. With everything just a click away on the internet, it's now so easy to have access to different kinds of DIY Christmas art projects for kids. You can come up with a theme or motif for the house and come up with ideas together to work on. From tree ornaments, to stockings and wreaths, the list is really endless. You and your children will feel a sense of pride when you see all your Christmas artwork displayed around the house.  In our own home, we involve everyone in designing the decorations (from our kasambahays to our children) and we try our best to make use of recycled materials. My children love hanging their small projects on our Christmas tree.
Ellie and Julia also love colouring Christmas-themed worksheets and posters. We've been using the Crayola ultimate set, which they love because they get to choose from a collection of 152 crayons.
*This is available at Ogalala Stores.
2. Set up a Christmas library. Whether it's your children's book library or movie library, it really helps build that special Christmas feeling to be able to experience stories of this theme in your own homes. There is an abundance of Christmas books and Christmas family movies that will leave you warm and fuzzy inside. It could be part of your nightly routine to read this book genre or a weekend treat to watch a movie in your own home. The best part about Christmas books and movies is that they also teach important lessons on generosity, love and family – what this season is really all about.  I always make sure that we start by reading the story of the Nativity. My children love to act out the different scenes from the stories they read about Christmas, with matching props, too.
3. Listen to Christmas songs. I'm sure that most of the time we spend moving from one event to another this Christmas is spent inside the car because it's traffic! So, in order to make the waiting inside the car more bearable, we play Christmas songs that my children can sing along with. There's a variety of playlists that you can easily download from Spotify or youtube, but I make sure that I listen to the songs first, so I can easily explain to my children what the song is all about.
4. Plan and cook your Noche Buena meal. Menu planning and meal preps need not be a stressful time. I think the best way to face this challenge is to make sure that you lower expectations when doing this task with your children. Be prepared to have quite a messy kitchen, or that your food might not be as perfect-looking as shown on the recipe book. The process is more important that the product.
Come up with simple and easy to follow dishes that your children can help you with. If a full meal is not feasible, maybe just do one dish from your menu together. Or you can also prepare the dessert instead. Help your children follow the grocery list you made on your next trip to the supermarket. Make sure you delegate age-appropriate asks during the cooking process. If you don't have child-friendly kitchen equipment (for slicing, cutting, etc.), you can have them mix stuff together or decorate your dish. Remember that it's not the fancy meal that will matter, but the quality time you spent together.
5. Wrap gifts together. This is a good way to practice your children's creativity and fine motor skills while having fun together. Again, expect that the final product will not be perfect but it is the process that is important. You can save up on buying Christmas gift wrappers by having them design their own on a big sheet of craft paper. If you have extra change to spare, you can have their artworks digitally printed out on paper. Gift wrapping can also be an opportunity to teach them about reusing and recycling paper by using old newspapers or magazines instead. Whatever way you decide to go, your gifts are personalized and special.
6. Watch Christmas lights together. This is one of my personal favorites. There's something about Christmas lights that excites you about Christmas. You and your family can go to a park with a lights display, or go around a village to look at how other homes have set up their lights. You can even do this in the comfort of your own home by just cuddling up together and watching your own Christmas tree over good conversations with family. Around New Year, in place of Christmas lights, you can catch a fireworks display event or view the lights in the sky in your own home.
7. Go caroling. Now, you don't have to be a part of a choir or an award-winning singer to do this with your kids. Think of it as an experience where you and your kids get to loosen up, have fun and sing your hearts out. You may not get a lot in return in terms of talent fee, but you're sure to get a lot of laughs and memories that will last you for a long time.
8. Give back. What better way to live out the values of the holiday season than by giving back to the less fortunate. You can choose to donate, volunteer your time to help, or even attend a benefit Christmas event. It can be with a big organization or even just in your own homes and community. It would be a plus if you could do this many times during the year, to be able to teach your kids that giving doesn't start and end in this season alone. It helps build your child's character and is also a meaningful way for you to spend time together.
In our family, we prepare small bags of goodies that we keep in our car, so that anytime we see children in the street  while it's traffic or we are parked, we give them these goodies.
This year, we are planning to give a portion of what our children have in their piggy banks as donation to our church.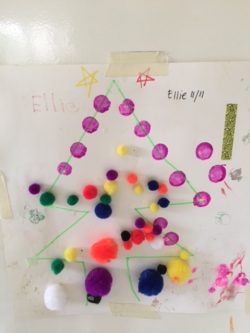 9. Our Thank-you Gathering. In this season of giving, it is equally important to learn how to give thanks. Together with our household staff, we read a story from the Bible and we talk about the things we are grateful for this year.  Also, we share what we want to pray for next year and how we can become better individuals.
My husband and I believe that we need to invest in our household staff's lives- not just helping them by providing them with a stable job but more importantly, to help them grow in character.
Start a new tradition. One can encounter so many tips and lists of things-to-do this season, but I think one of the best things about being part of a family is that you can start your own new tradition. It could be a game you want to play during Christmas dinner, or a unique way for you to exchange gifts, a ritual you want to start the season with – anything that is personal and meaningful to your family. Make your own rules and lists together.