Q: Hi Teacher Tanya. My baby is starting to be mobile already and she's all over our small home. We just moved in our condo and we're still figuring out how to fix it in such a way that it's safe for her. I'm just wondering if you can share some tips on how I can support her love for movement and at the same time, make sure she is safe. 
Mommy   Anne
A: Hi Mommy Anne!
Thanks for sending your question. This is always asked during my parenting seminars and classes, which means, it's a concern of most parents, especially those whose babies have reached that stage of exploration.
I remember when my eldest, Ellie was 8 months old, she fell from our bed because after feeding her,  instead of placing her back to the crib, I placed her on our bed (which was very high). Yes, I was sleep-deprived but I knew that no matter how much sleepy I am, i should always consider safety to be the priority. It was the scariest moment of my life, we had to rush her to the ER and by God's grace, she was okay. I blamed myself of course, but I realised that I cannot stay stuck in that feeling forever. Our family and friends told us that there is always a first time, but it was a lesson for my husband and I to really be a step ahead of our baby.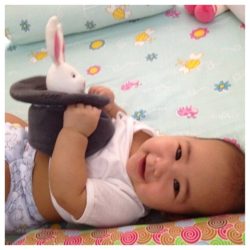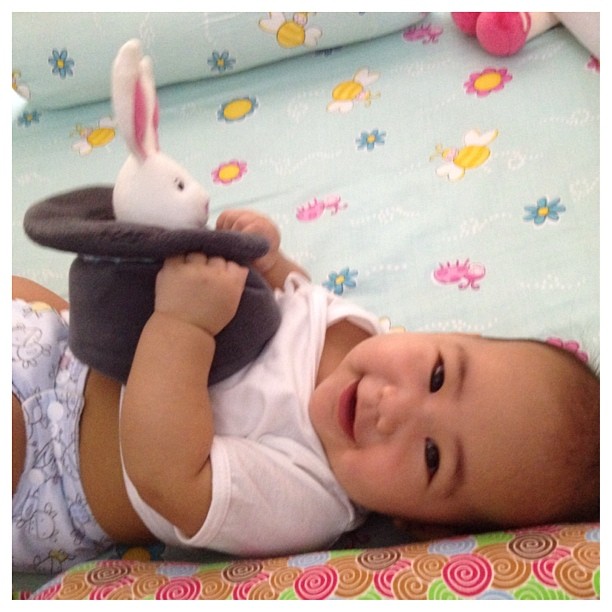 Do you know that Unintentional falls are the leading cause of non-fatal injuries for children in the United States. In 2013, unintentional falls resulted in nearly 2,578,235 injuries requiring treatment in an emergency room. These injuries resulted from activities such as climbing on furniture, playing near an unsecured window, falling down stairs or playing on playgrounds. (Source: Safekids.org)
When a baby starts to become mobile, it's a truth that they can't just be contained inside a crib anymore. Their love for exploration, believe me is amazing. They can find a way and figure out how to move from one place to another, most of the time, on their own, even without our help.  So, we should think twice whenever we tell ourselves or our spouse, "Okay lang yan sa bed, hindi yan mahuhulog. Hindi siya gagalaw" . True for babies who are not mobile yet, maybe a newborn or a month old, but they won't be like that forever, they grow up way too fast.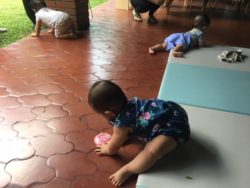 Magda Gerber in her book, "Your Self-Confident Baby", wrote that as parents, we should be more safety-conscious. You might think that your baby never goes to that area in your home, but you would find out sooner or later, that she has that capability to even reach for that book on your book shelf. To be respectful of your child, you should make your home safe.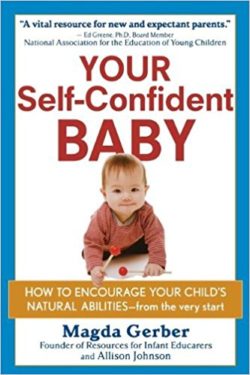 Magda emphasized that the number one rule in your child's play environment or any environment is SAFETY.  She recommends to safe proof a room completely that your child often spends her time in. Magda suggested that a gauge if your child's playroom is safe is that if for some reason you can't go back to your child's room, your baby will be safe there alone.
Keep in mind that a mobile child needs a safe environment. However, it is a challenge to safe proof your entire home. What's feasible instead? Magda suggests that you can gate off or make inaccessible certain areas that are not safe-the kitchen, bathroom, and stairs.
The kitchen is a dangerous place for your child because of the possibility of accidents- children can grab pot handles, dishes, knives, while an oven door can be pulled open unto a child's head. In the same way, the faucets and bathtub or shower nozzles with hot water can scald. Young children can also drown even in just inches of water so it is suggested to close the door. The stairs, are not safe until a child has completely learned to explore them. It is suggested to gate off at the top and bottom. You can still let your child practice (with supervision) going up and coming down one or two steps at a time, adding a few more until she learns it.
Here are 5 things to keep in mind in order to keep your home safe:
Keep in mind that there should be no potentially dangerous things that might fall on your baby. Move dangerous objects such as: vases, sharp-edged tables and floor lamps.
Cover all electrical outlets. Put cabinet locks on cupboards or drawers your child might open. But, leave one drawer available to your child that she knows she can get into, or leave her stuff in there.
Move all unnecessary clutter.
Keep your floor or carpet clean. Keep in mind that the floor where you walk on is where your baby spends most of her day.
Gate off certain areas in your house (that you think is still not child-friendly)
Safety First has always been our go-to brand when we were figuring ou how we can safe-proof our home with 2 young children. These are some the items that you can readily find online via (oga-lala.com) or in store too (Ogalala Store: Ayala 30th or Shangri-la mall).
Always designate one place where your child may fully explore. It should be safe for your child at all times. This provides a sense of consistency, it sends a message to your child that she is safe and free to explore here. It also respects her need for exploration. Babies learn best through natural movement, not when we restrain them.
Is it true that when you use safety gates, your child will want access to your entire house feeling imprisoned without being able to have it? Magda explained that a child won't want to to run around the house if she/he starts without it. She said that, "Habits have a strong hold. You can develop good habits as easily as bad habits. We are not born with habits. They are societal, a mixture of what we are allowed to do , what we want to do and what we can do."
Have you asked why it is so important to safe proof your home and why don't just children learn if they can touch things or not? Magda explained it by saying these:
"They (children) learn this gradually, as they develop judgment. But at a certain age, they cannot learn. We, as parents, have to be aware of what their minds can understand or learn, and at what age. Danger isn't part of a young child's thinking. Household accidents involving children happen at all time. This is not just a theoretical issue." 
The sad part is that many people don't respect danger, with this thinking, "nothing has ever happened in this room, therefore nothing will ever happen here." Magda emphasised that, "Nothing happened until the first time it happens." It's almost impossible to say that you can watch your child every moment of your day, we also have to use the bathroom or even answer calls.
I realised that safety should a priority in all aspects of my children's routine- whether when they are awake or asleep. I learned it the hard way when we experienced our first accident with Ellie. It was indeed, a wake-up call for our family to always put safety first.
PS. Here's one of the websites I use for safety checklists. You can easily download their ready-made checklist (for home, car use, medicine use, etc) or make your own.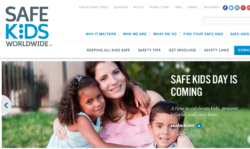 https://www.safekids.org/safe-kids-day/my-high-5