I always get asked this question: "How do you raise 2 very young children? What's the formula to your parenting journey?" I always say that I won't be able to do it if not for my husband, Mike. The truth is, I am able to do my role as a mom to Ellie and Julia because I have a very supportive husband. There's no formula to parenting, it's unique to every family but based on our experience, working as a team has helped us navigate parenting with joy and gratitude.
When I was pregnant with our eldest, Ellie, we talked about our roles as parents. Mike and I believed in the earliest years as the most crucial years in raising children. We both decided that I would stay at home for the meantime (until both our children were preschool-aged) while he would work full-time. It worked well for us because having 2 children (who were just 1 year apart) meant alot- more time and effort needed.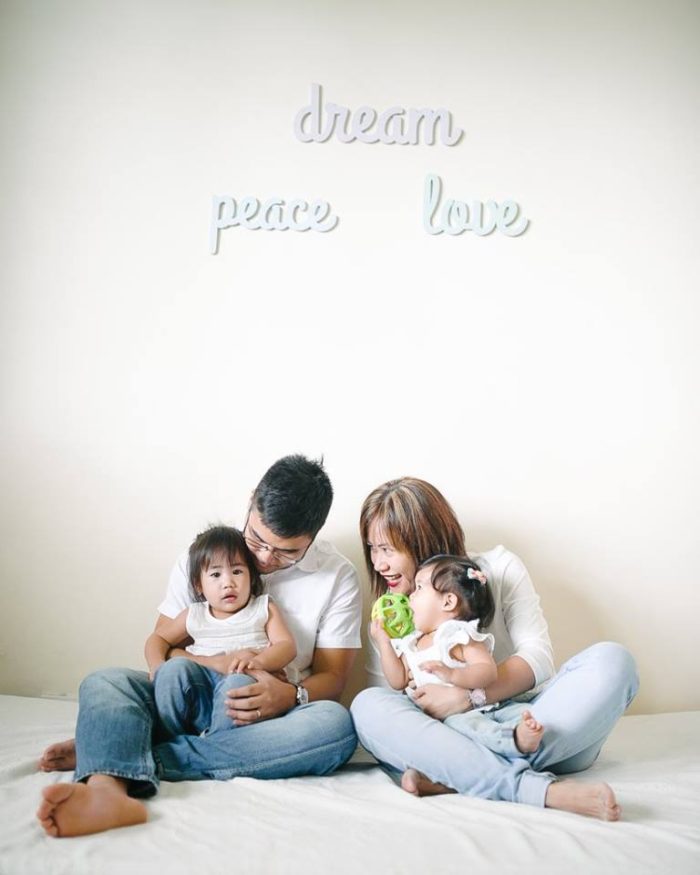 Even if Mike worked full-time, it didn't mean that he was hands-off with home chores and with the children. I always admired how intentional he is with our children. When he comes home from work, he plays with the children, gives them a bath, helps in putting them to sleep. He would take them out of the house so I can rest, or he would take the shift in putting them to bed so I can have my alone time or time with my friends. It is true that when the mom feels cared for, our children benefit the most- they see that their parents are working together- and I think that's the best way they would experience what love and helping others really mean.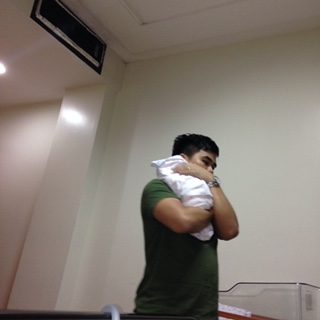 I asked several parents about how they live out being a ParenTeam. Here are their answers:
What are your challenges in raising your child/children?
The topmost challenges are the ff: balancing the needs of the children and the demands of work; managing the home (such as: daily household tasks)
"I think managing time to cater to our kids is a challenge. We need to schedule our weeks/months to make sure that we're allocating time for our work, the kids and time for each other (husband and wife)."
The topmost challenges are the ff: Managing a new schedule (having a child changed our patterns, priorities and demanded a lot of adjustment especially that we also don't have household help); Making decision for our child (what's appropriate for him/her- from products to our parenting approach) because there's just an abundance of information out there.
"One of the challenges is the lack of a fatherly influence in the life of the child. Because the father works abroad, one challenge is not being able to attend important family/school events. "
2. How do you deal with these challenges?
"We take it day by day. We prioritise. We also do our best to give and take. We are both aware that we are needed at work and that we are both in need of rest. So we give what we could and ask from each other what we really need. "
"We make sure to communicate – to know that we're both on the same page or have the same goal in mind. We need to sit down and think of ways to work on it. Part of that is listening to each other's ideas and accepting that his/her idea will work better. Knowing when to agree and disagree, not for self's pride but for the betterment of the situation"
"By being self-less and a lot of prayer. One of the things that made us survive was our willingness to sacrifice the things we used to do to choose to take care of our little one."
"My husband and I talk about what we think is best for our son. If we encounter any disagreement regarding our choices, we compromise. With regard to the advice (of others), we filter what we are going to do or follow. And at the same time, we simply ignore those pieces of advice that do not suit our choices on parenting."
"In terms of choosing the things we use for our baby, we made sure we give him the best of what he needs. We discuss things in order to make sure we only spend for the basic minimum. I (the mom) personally did a lot of research and tries to check every promotion available. "
" Working together in raising our family is still possible even in our family's situation. When making a decision such as enrolling Mio in extracurricular activities, I discuss with my husband first and we decide together through a phone call. It's really important to still work together even through challenges because we are family."
3. Can you relay a specific experience that really spoke to you about the value of working together as a team?
"After discovering that our child minder has been hurting our son, one of the most significant decisions we made was to takeover all of the child care tasks ourselves, and not to hire another person to look after the children. Everyday, we are discovering how challenging this setup could be, with both of us working full time. But this also led us to create a new relationship with our children. We learn new things about them each day, and this has made our relationship blossom in a way we never expected. "
"I'm used to doing things on my own, but when it doesn't work out, I ask help from Toto (which is a struggle for me because again I like doing things on my own). And it made me realize that I could've saved more time if only we've done things together. 
A simple and very relatable example, within the 1st month when our youngest was born…I would breastfeed, change diapers of both kids, give them a bath, wash my pump & the bottles and etc. We had 1 helper and Toto was just beside me. So at the end of the day I would feel tired, frustrated and annoyed. All this while he was thinking, 'my wife can do it all' haha and then PPD kicked in, to which I finally told Toto about how I felt. And since then, it felt better. Raising our kids together, doing things together. It's more effective and more efficient."
""There was an instance where I had to go out of the country for a week for a seminar and my husband would be left behind with our daughter. My husband can get very busy (because he's a lawyer) but he was able to keep our child's routine in place despite me being away, and was also able to take care of everything else related to our child. Because he is a very hands-on Dad and we are both aware of the do's and don'ts for our child. I was able to enjoy and make the most of my time away. Knowing that he supported me and that he was on top of things at home made me feel very grateful that we are a team."
"We also made sure we both observe our baby so we can both evaluate if the products we are using suits him or not. We talk about everything that happens to our baby so discussion really helped us in choosing the right diaper, soap, wash, bottles, etc."
"Sometimes we usually think that SAHM does not need help. I have this perception that I can/should handle everything. Even if it's hard or even when I am tired, I want to do everything by myself. My husband offers his help but I usually refuse him. Then he got used to it, thinking I can handle everything. There was one time that I felt so lonely that I don't have someone I can rely on or help me with my son. I talked to my husband about how I felt and that was when I realised that parenting is teamwork, whether you are working or SAHM. You need someone to help you raise your looks or look after them when you need your own time"
4. What's your advice to parents out there?
"We need to work together as a community of families to find ways to make family life easier for parents and children. It is time for us to take the necessary steps to make our environment more conducive to healthy families and therefore, healthy children."
"Make time and talk. Knowing each others current state in heart, mind and soul helps you be on each other's best side and helps you handle the worst side."
"Be confident with your choices. Do not feel ashamed or guilty, just do what you think is best for your family."
"Enjoy parenthood. Choose to enjoy your baby. Every stage won't last that long." Don't let your baby get in the way of your relationship with your spouse. Your spouse is and should still be your number one love and priority because there is more good for the child when he sees his parents loving each other."
"Before we are parents, we are husband and wife first. To be able to work as a team, whether it's parenting or budgeting or doing household chores- it always helps to set the foundations of trust, communication, friendship and love in the relationship. Take time to know each other's parenting styles and individual beliefs and do what you both think is best for your family. Always aim to come out of an issue stronger together. Raising a child is a long journey and will never be easy, but knowing that you and your spouse are a team will give you the strength you need to be the parent your child needs. "
"To parents especially those who work overseas, enjoy the time given to you to be with your family. Make them feel loved and cared even when you are not together, for they are the main purpose of your work. A child raised in a loving environment, regardless of the situation will also learn to be one as he grows up."
I hope you learned a lot from the life experiences that the different parents shared in this article. I learned so much. Indeed, parenting is a life-long journey. It's true, whatever your situation is (working parents, stay-at-home moms and even OFW parent), there is no doubt that working as a team makes parenting more meaningful. 🙂
*This article is written in partnership with Pigeon Philippnes. You can check out their items at leading department stores and at the Ogalala Store. You can also check them online via their FB page: Pigeon Philippines.