While dining out in a restaurant, an old woman walked towards our table and asked me, "how do you teach your children to play like that and wait for their food?" Apparently, she was seated right across our table and was watching us from afar. I remember we just ordered our food and my children (Ellie and Julia) were busy playing with the sugar and ketchup sachets on the table. I told the lady, "I actually don't teach them. I just let them find ways to stimulate themselves with whatever they see around them. They always surprise me with their creativity."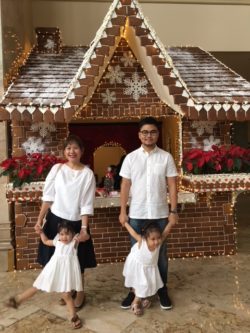 One of the many things that I'm learning as a mom is to trust that my children can actually keep themselves engaged. Raising children and being a parent at this time is indeed challenging. Honestly, I'm feeling the effects of living in a world where we are so used to being entertained, where hurrying up rather than waiting is more than welcomed because we are surrounded by many things that can just be accessed instantly, or we are led to believe that we just need to keep on receiving or be stimulated rather than actually figuring things out or exploring our environment.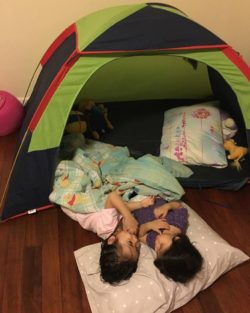 I understand how much this is of a concern for parents because we were led to believe that a child should be stimulated enough to ensure that he is learning and stimulating them or entertaining them is one of the many roles we need to be doing as parents. Through my exposure to the RIE® approach, I have come to understand that there is a great difference between an engaged child and an entertained child. Ruth Anne Hammond, in her book, Respecting Babies, explains further, " Babies and children who are offered too much- constant entertainment- do not have a chance to learn to keep themselves interested by creatively using and combining the same-old same-old toys. If stimulation is regularly of the "entertainment" variety, the baby may become a habitually passive recipient who expects always to be entertained, rather than an active investigator." (p.123).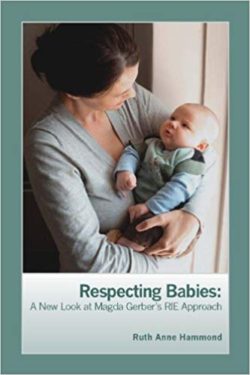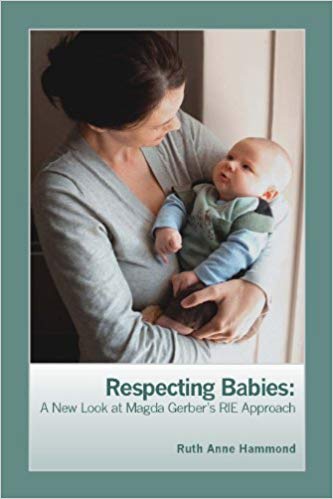 Have you seen a child who is engaged? I've seen this in my own children- whenever they are very much interested in what they are playing with- whether it is building blocks or playing with clay or figuring out how to come up with some props for the story they are trying to role-play. I've seen this in the many infants and toddlers in my parent-infant/toddler classes- how an infant can comfortably lie on his back and actively stimulate himself using his hands or how a toddler repeatedly puts water inside a cup for 20 minutes. Have you experienced how difficult it is to call their attention because they are deeply into what they are doing? Have you noticed how their whole self is engrossed into that moment- how their eyes are intently looking into what they are creating, how their face beams with excitement, how they can creatively position their bodies so they can fully enjoy the experience?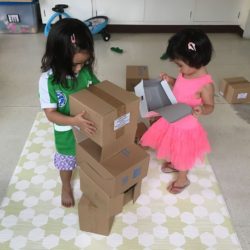 The RIE approach has been our family's ally in establishing a habit where active play is part of our routine. I've seen how this has drawn out my children's ability to imagine, to create and at the same time, I've seen how it has helped manage their emotions, especially during not-so-good days.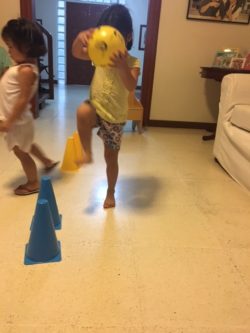 As parents, one of the many things we can do to help our child concentrate is to maintain a sensory environment that will invite them to seek engagement rather than just screen out an abundance of stimulation. By providing a setting and time for active play, we help develop our child's ability to not just focus on what he is creating, but the important value of tolerating his frustration (when he can't seem to put one block on top of each other, or when he can't seem to reach for the ball) and to develop the habit of trying and not giving up. Setting up an environment at home that encourages active minds and bodies is crucial in supporting our child's exploration. It is crucial that we provide our children with developmentally appropriate toys that will engage them to discover, to be curious and to be creative.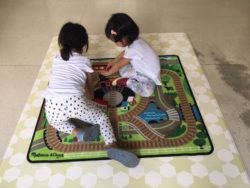 Remember my story earlier? It was a reminder for me to keep on doing what we are doing with our children, no matter, how difficult it can be at times. Isn't it so much easier to just turn on the TV and let them be entertained where there's silence at home and you can do your own "tasks" as parents? True? That's right. But what really is important and matters most long-term for our children?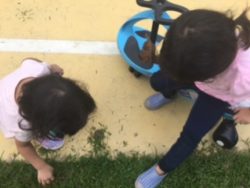 Play is a foundational necessity that will allow our children to focus their attention on what is truly important. Ruth Anne Hammond points out the benefits of play, "the satisfaction of relationships with attuned adults, the joy of discovery, play with peers and the rewards of creative problem solving." Truly, the gift of active play is the best gift we can give to our children- as it is a foundation to being an engaged individual.
.