I'm featuring a question from a first-time mom who just gave birth.
Q: Teacher Tanya, I'm worried that I'm not being able to stimulate my newborn the right way. I don't know if I should be always talking to her 24/7 when I barely have enough sleep. What things do I need to set-up in order that she is well-stimulated? Help! 
A: Thanks for sending your question. Every first-time mom with a newborn would always ask me this and it's always always valid. As parents, we only want what's best for our baby. And so, we assume that by stimulating our babies all the time with "things",  we are assured that our baby is learning well.
Magda Gerber, a well-known infant specialist and proponent of RIE® and the Educaring approach®, would always say: "Be careful what you teach. It might interfere with what they are learning." Magda pointed out that when we interrupt a baby who is comfortably lying on a mat or exploring his hands or the play objects around him, it can actually be a form of distraction for the child. This is why, we need to advocate for an uninterrupted play for every baby. This is why we advocate for every baby to have their own alone time. In her book, Caring for Infants with Respect, she specifically outlines how you can support your baby's uninterrupted time.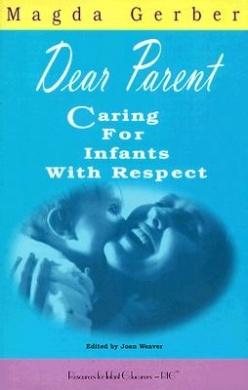 I agree with the statement that, "an infant does not need constant attention". We don't need to always talk to the child every minute or to always be near him all the time. This is because a baby can actually learn to spend time by himself. It is essential that we allow the child the space and the time to discover "satisfaction" in his own independence.
A good way we can support our baby's uninterrupted play to have a good set-up at home. A space where your baby can lie down on the mat, with a few play objects within his reach are advisable. It's important that your child's play objects or toys are developmentally-appropriate. (Please check my article on: Babies and Play to find out about these play objects)
I always tell parents that when we give our babies time alone, we are actually doing good for ourselves as parents. It's practical. Why? Because when you allow your babies time alone, then it gives you the time you also need to nourish yourself, in many ways. Parents in my parent-infant/toddler class program who applied this principle shared that they can relax in one corner of the room or drink a cup of coffee while their baby play on their own for 30 minutes or more. Any parent would agree that 30 minutes can do so much for you as a parent. It recharges you as a parent.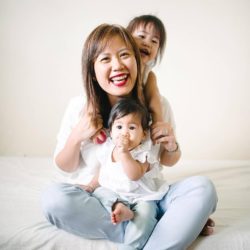 I encourage that you practice giving your baby the time to be alone. how long? As long as your baby can do it. Be sensitive to the cues-if he's hungry or he needs a change, then that's the time you need to step-in and attend to his daily needs. Other than that, if you see that your baby can play independently, then go and support your baby.
Lastly, you should aim for a sense of balance too. A time alone should be balanced with a time with your baby. How do you spend quality time with your baby? During your caregiving times (feeding, changing diapers, taking a bath), use this time to be present fully. Have eye contact when you do those routines. Walk your child through every step of your caregiving activities. This very process encourages not just bonding but promotes respect between you and your child.