Question: Hi Teacher Tanya! I need help! My sister just gave birth and I'm officially a tita 🙂 I'm looking for a gift that I can give my inaanak for her baptism. I'm also planning ahead and thinking what else to give her on her 1st birthday and her 1st Christmas too. 🙂 Thank you!
"Tita" Anna 🙂
Dearest Tita Anna,
Hello! Congratulations! I can feel your excitement as you welcome your first niece. I can totally relate because when I gave birth to my first-born, Ellie, my one and only sister, was so excited. She kept on asking what she can give to my daughter! When I gave birth to my youngest, Julia, she also asked the same question. It's a blessing to have such support.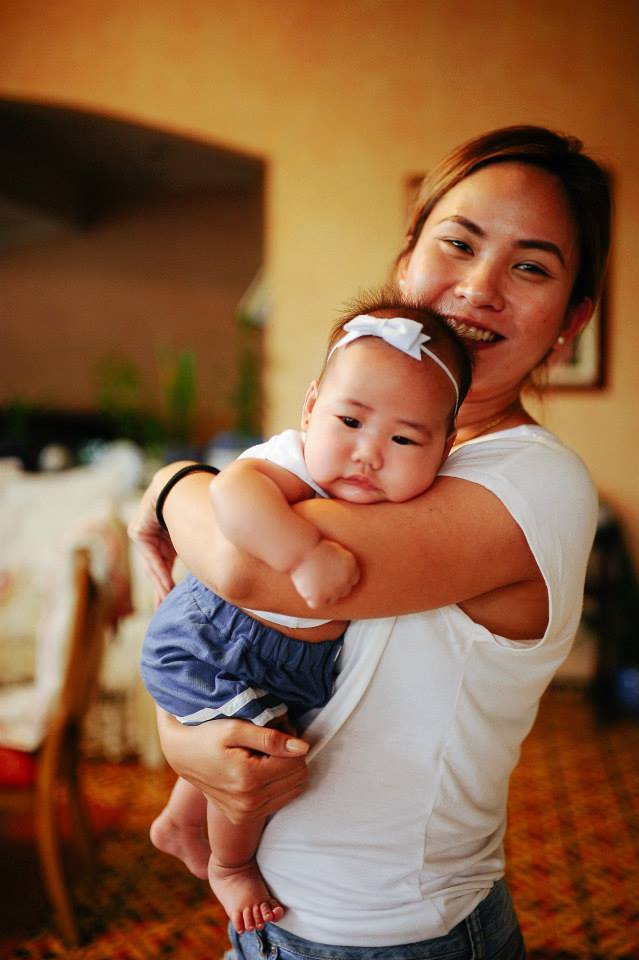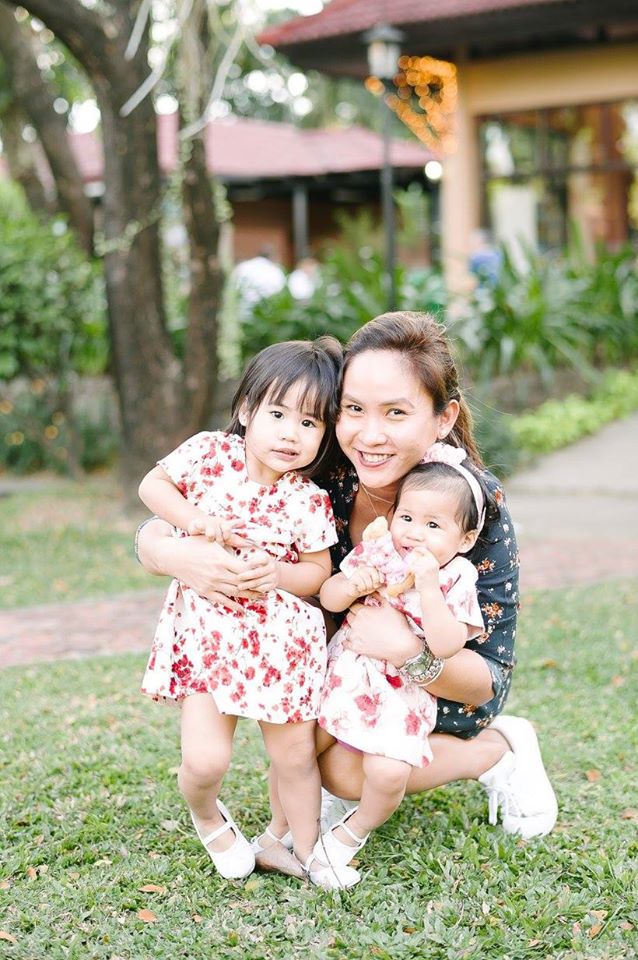 When it comes to choosing gifts, (as well as materials and activities for children), one should always consider it to be developmentally-appropriate.
In summary, when a particular material/gift/play object is Developmentally-Appropriate: It actually means that the particular material suits the child's developmental age (how old the child is) and a child's developmental level (where the child is at, what can he do, what is he interested with).
Why is this so important? Why can't we just grab any 'popular toy' from the store and why do we need to go through the hassle of identifying these 2 important things (age and interest)?
I really think that it all comes down to being an "intentional giver". Are we choosing a particular gift, "just because (just so we can have something to give)" or are we choosing this particular gift because it will benefit the child? These are two very different intentions. Whether we are a parent or a godparent, we should always keep in mind the best interest of the child- through the presents we give him/her, through our presence and through every experience we have with this child.
If a particular material/gift is not developmentally-appropriate, a child may develop frustration, and thus, lose the confidence in exploring that toy. Do you know that toys that suit a child's developmental needs will build his self-esteem as it nurtures that "I can do it" feeling?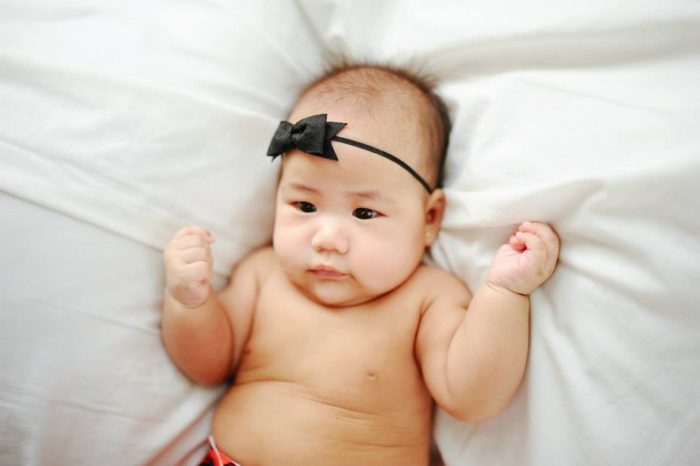 Here are guide questions that you need to keep in mind when choosing gifts for an infant:
Is it appropriate for the age and developmental stage of the child?
Is it safe?
Does it encourage exploration?
Does it encourage movement?
Is it more for engagement or more for entertainment?
Developmentally-Appropriate
Let me discuss in detail the stages of infant development.
a. 0-3 months: Movement and Play are very important for an infant. They need freedom of movement at various times during the day although they don't like big spaces as they can't see anything far yet. Infants at this stage are actually 'playing' with their hands.
According to my mentor, Ruth Anne Hammond, in her book, Respecting Babies, she pointed out "until babies have really learned to use their hands, toys are not much of use". She added that newborns need to discover their hands, as it leads to hand-eye coordination and more intricate forms of play. She stressed that, "the more rewarding and beneficial opportunity at this stage is to be able to see one's own hands and learn how to move them in a chosen direction and how to open and close the fingers at will. Only when this has been accomplished are toys useful. "
Suggested play objects: a simple cloth/scarf/lampin (never use materials such as: silk, nylon). Lay it flat and let if form a peak. Ruth Anne added that, the baby may grasp it but because it is soft, it will not hurt the baby's face when he/she lets go of it. Board books (written not just in English but also in Filipino and even your native language).
Other non-play items: Newborn care products (for bathing/grooming, hygiene and self-care such as: wipes, laundry detergent; cleanser etc. ); breastfeeding essentials; skin care products; safety essentials (thermometer;nose cleaner, etc.); clothing;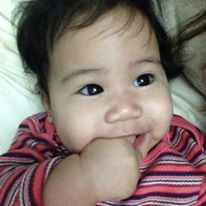 b. 3-6 months: Infants at this stage are learning to control their body. They are learning to grasp and reach for toys aside from his/her own fingers/hands; they are discovering bigger movements (such as: rolling, attempting to sit, creeping, etc.) and at the same time, communicating through sounds/facial gestures. They are also getting used to his/her environment- adjusting to a routine and a schedule (for sleep and eating).
Suggested play objects: O-balls; short chains of linking rings; small wooden bowls; stainless condiment cups; small rag dolls or sock animals; flexible silicone coasters and muffin cups (Respecting Babies, p. 95); board books
Other non-play items: home safety (safety gate; baby monitor; furniture protector/cushion); feeding essentials (bowl/utensils); hygiene/self care (toothbrush set, etc)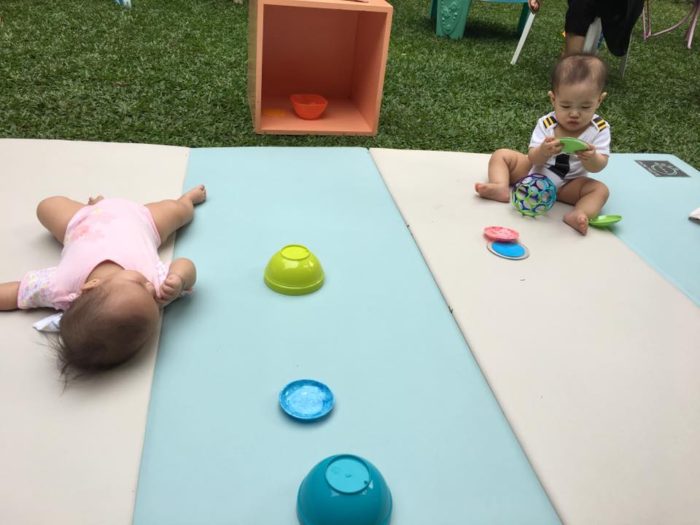 c. 7-12 months: Infants at this stage are indeed moving a lot. They have progressed from rolling to creeping and then crawling. Some have also learned how to put themselves in a sitting position as well as pull themselves up to a cruising motion.
As they grow older, you would notice how infants integrate both gross motor and their fine motor skills. I've seen how my own children would explore a particular cup/container while lying on their side or even while on their tummies. Some of my students in my program would explore objects with both hands in various positions (lying down, side-lying or even while in a crawling position).
Magda Gerber added that "containers offer opportunities for babies to explore many notions, including 'in' and 'out' while the child remains in control of the activity and the object. This builds feelings of competence and confidence along with the concrete information gathered." (Dear Parent; p.99)
Suggested play objects: Balls (of different sizes, texture); stainless cups; baskets; boxes (become push toys); colanders, plastic containers with holes; furnitures such as: low platforms; ramps; equipments (push/pull toys; wagon); board books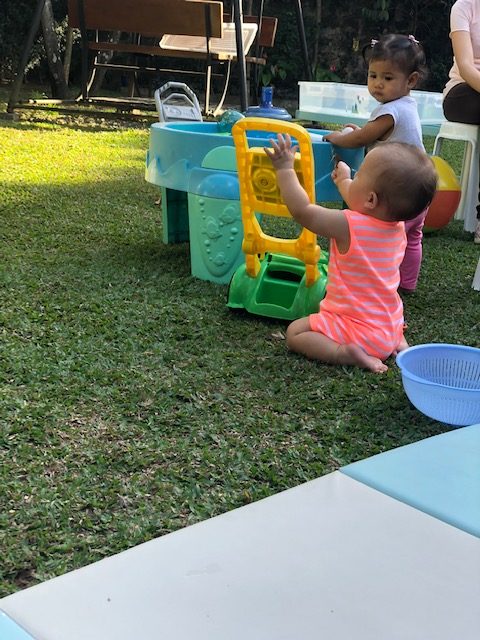 Ruth Anne pointed out that "same toys they have explored earlier now get used in different ways." (p.97). I've seen children in my program who continue to play with the same toy- over and over again, in many ways.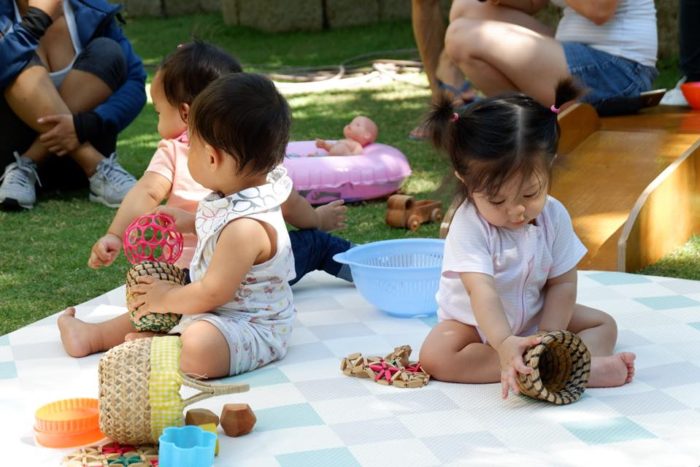 I always tell parents that you don't have to keep on buying. Just check your kitchen and see which of these items are safe and appropriate for the infant. When you buy at the grocery, ask them to put your items in a box- because you can eventually use this box for your infant.
Keep in mind: safety first. Any gift/object must be safe for the infant who will be using it. This means that it isn't too big or too small to be swallowed. There are no sharp edges, long strings, unnecessary holes that can cause any accident. Check for breakability as well as anything that can cause suffocation.
Movement is everything for an infant. Whether it is using their small muscles or big muscles, an infant derives joy from being able to explore. This means that a particular material/object/gift should be able to encourage this love for exploration/movement.
This is why Magda Gerber pointed out, "an active infant manipulates passive objects" (p.101), and not the other way around. The best materials/gift for an infant should allow an infant "to be as active and competent as possible at every stage of development".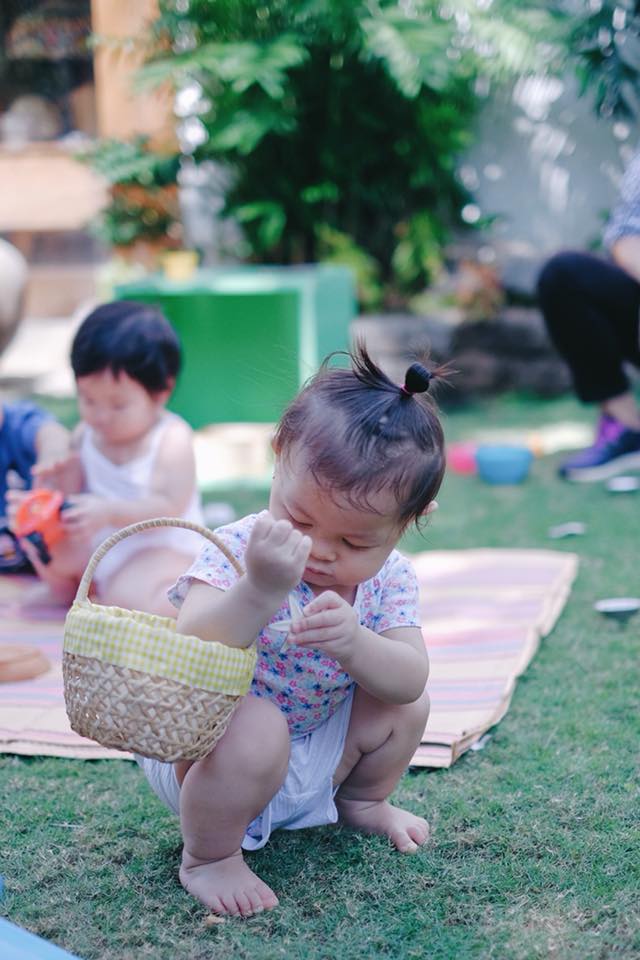 Engagement vs. Entertainment
There's a big difference between an infant who is engaged and an infant who is entertained. Infants who are entertained use toys/objects that are battery-operated/electronically-operated that cause an infant to be passive, rather than active. I've seen quite a number of infants who are propped up on their seats in restaurants or in malls, and are looking at an Ipad/phone instead of observing what's around them or interacting with others. On the other hand, infants who are engaged are explorers, love to play. They are active babies whose creativity and focus are encouraged further because they are given the opportunity to do so.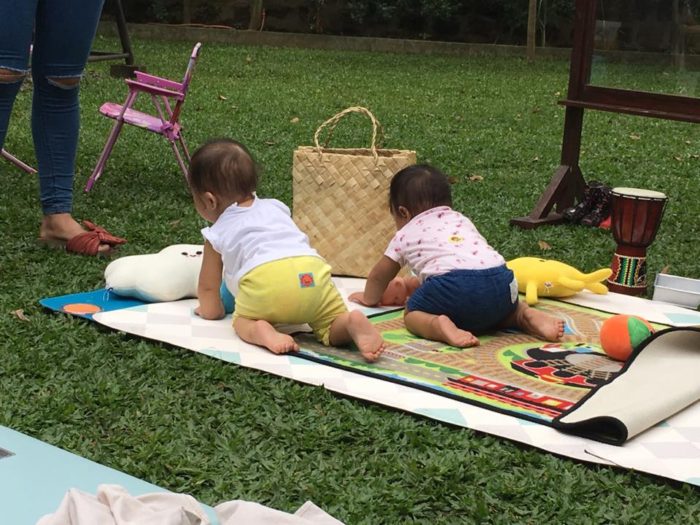 In summary, ask these questions when you are choosing a material/gift for your inaanak.
Is it appropriate for the age and developmental stage of the child?
Is it safe?
Does it encourage exploration?
Does it encourage movement?
Is it more for engagement or more for entertainment?
Keep in mind that gifts need not to be expensive. The simpler, the better for every infant.
Anna, I hope I was able to help you. Enjoy being a tita:)
*This article is written in partnership with Pigeon Philippnes. You can check out their items at leading department stores and at the Ogalala Store. You can also check them online via their FB page: Pigeon Philippines.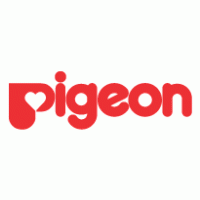 References:
Gerber, M. (1998). Dear Parent: Caring for Infants with Respect. Los Angeles, California. RIE.
Hammond, R.A. (2009). Respecting babies: A new look at Magda Gerber's RIE Approach. Washington, DC. ZERO TO THREE.