It was only when I became a mom and a RIE practitioner, that I got to understand "creativity" in a different light. It was surprising that it was my children-Ellie and Julia, who changed my perspective on it.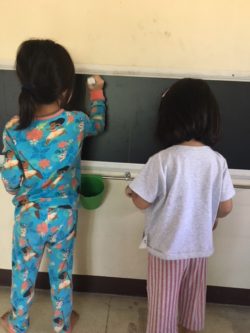 Growing up, my idea of creativity was synonymous to art projects and simply limited to individuals in class who are"artistic" because they can draw and color well. I remember saying that I'm not creative because I can't draw well, and sad to say, it stuck with me until now.
Magda Gerber (RIE's founder) when asked about "creativity" said:
"curiosity is a natural trait in children. It is the doorway to creativity, and should be appreciated and nurtured. Let your child's natural curiosity develop by letting him explore on his own rather than guiding him. Natural curiosity leads to the joy of discovery."
Having read this, I was inspired to see how it unfolded as I was raising my children, Ellie (then a toddler) and Julia (who was barely walking). It was a challenge to take a step away from what's been a usual routine for me when I was a preschool teacher, having been trained to think about art projects with a specific output or goal in mind. But the RIE approach reminded me that respecting their curiosity means letting them explore on their own. Younger children learn best through concrete materials, with opportunities that enable them to truly experience, something that involves their senses rather than just watching it from the screen.
Honestly, it was very refreshing and relaxing to just observe my children's experience. To take a step back, to observe more and to do less was very humbling. It was a beautiful reminder that it's not just about the product, but it's all about the process.
In order to support my children's process, I simply prepared an environment that is: emotionally-nurturing, cognitively challenging and physically safe.
a) Cognitively-Challenging:
This meant that I set-up our play room with materials (not simply limited to art materials) but those that will compliment such open-ended experiences. Such materials range from brushes, recyclable materials which we collect (boxes, newspaper, used ribbons, egg cartons, etc), washable paint, etc.).
I started doing this simple set-up (of putting out materials) when Ellie was a toddler and just started adding materials (clay and coloured sand, buttons) as both my children became older. By making these materials accessible to them, it allows my children to choose what they really want to do and it enables me to do minimal intervention as well.
I've noticed how my children would love to mix and match a variety of these materials. There was one time when I saw Ellie mixing the paint with the glue, and then instead of using the brush, she dipped her hands into the mixture and dragged her hands on the box. She said, "Mama, look at what I can do with my hands." On the other hand, my youngest, Julia would go back and forth to the sink, trying to figure out how much water she would need so she can mix the paint well. She told me: "Mama, just the right amount so I can mix it."  
In an article published in Teaching Young Children, Vol,7, No.3 entitled, "How Process focused Art Experiences Support Preschoolers", it mentioned that "children develop language skills as they may choose to discuss their art and add print to it (on their own or by dictating) and cognitively, they compare, predict, plan and problem solve as well".
Through these creative experiences, my children are learning significant academic skills in ways that's indeed fun for them and without me, having to teach them directly. I started labelling their drawings when they were slowly becoming verbal. They might not be able to read what I wrote about their drawings but it helped create a safe environment of expressing yourself-your idea, your thoughts. As they got older, I would ask them to tell a story about their projects, we would come up with an ending and even a title to it. Eventually, we plan to come up with our own book. By doing this, we create a print-rich environment at home, that sends a message that words have meaning, and this is how we expose our children to reading and the love for learning.
b) emotionally-nurturing:
I liked what Magda Gerber said,
"Children find creative solutions to problems if we allow it. Grown-ups are typically success-oriented so we need to step back and see that with children, the result is not the issue. Learning how to do it is. If we do things for children or criticise them, we make the process harder for them. They then start with a negative feeling. Offer supportive feedback, "You tried." The issue is not performance but the trial, the ingenuity, that your child attempted. Effort is a positive step in the learning process." 
There is this sense of joy that I see on my children's faces whenever they have the freedom to explore during these creative experiences. I noticed how focused and persistent they are whenever they are doing something that interests them.
This is so true with my eldest, Ellie who's now 4 years old. Ellie is an active child who learns best through movement. By observing her all these years, i've learned that when she's interested with something, she can focus and accomplish her activity.
Our set-up at home has been a great support for Ellie as she thrives well in having the freedom to choose her activities and materials and explore these materials on her own, without any coercion or guidelines. Honestly, there were several times that I wanted to interrupt her, but I'm just glad that the RIE philosophy has encouraged me to simply wait and observe.
A few months ago, I was surprised to see Ellie sitting in one corner of our playroom, colouring on her paper, and telling stories. I thought she'll stand up right away like she always does but this time around, it was only after an hour that she stood up and showed me what she made. She came up with her own ice cream selection (complete with different flavours), used a variety of paint and colouring materials and told me that one day she would want to have her own ice cream truck. Everyday, she would find time after playing or in between playing, to come up with an art project for the day. The walls in our playroom is filled with her art projects and that of Julia too.
Ellie's story is a story that celebrates Process. As a parent, I am proud of her projects but what makes me proud is how these creative experiences have helped Ellie grow emotionally. This was so real whenever I see: the joy on her face whenever she colours, the persistence to do it again when she thinks she should have used another material instead. And whenever I hear the silence at times, her invented songs while she completes her work; her patience to help her sister Julia with her project even if she's busy finishing her own.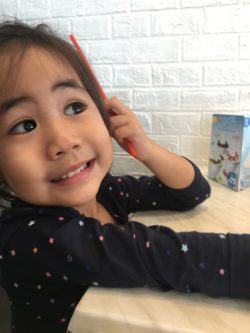 c) Physically Safe:One of the many ways that young children is able to tune in to their creativity is by experimenting with art materials. But in order to support this, parents should also keep in mind a safe learning environment.
I would say that I am able to be confident in letting my children explore with a variety of materials because I have screened these materials that I put out in our play room. Using safe, washable art materials have been so helpful in enabling my children to really enjoy their creative experiences. I don't have to worry and to restrain them from truly immersing themselves during their activities.
Recently, we tried to transform a potentially-hazard portion in the home into a nook for creative experiences. Our second floor aside from having a safety gate, used to have ropes tied around the stair handles just to refrain my children from slipping their small bodies into the holes. My husband and I thought that it would be better to just put a whole board around it, so that our children's attention would be directed to other fun activities that they can do with writing. As expected, they no longer tried to insert their bodies into the holes but instead, became more interested in doodling and telling stories about their drawings.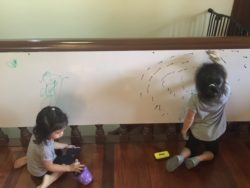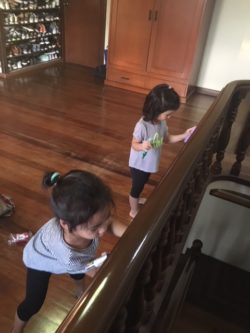 I enjoy coming up with possible learning avenues at home where my children can express themselves. A few months ago, we set-up a child-sized blackboard where my children can just doodle and draw. I always look forward to finding out the story behind their drawings.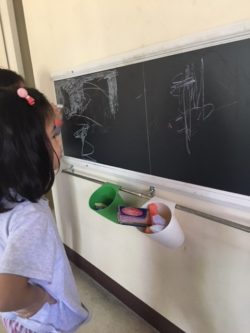 It helps to keep in mind at what stage your child is already at when it comes to drawing/writing. These 4 stages are: 1) random scribbling (15 months-2 1/2 years); 2) controlled scribbling (2 years-3 years); 3)Lines and Patterns (2 1/2-3 1/2 years); 4)Pictures of Objects and People (3-5 years old). My First Crayola came up with an informative poster that you can use as a guideline when it comes to your child's stage.
By observing your child at play, you will be able to understand where your child is at, and what truly interests him.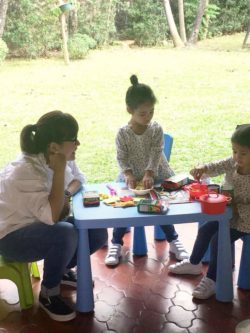 By respecting your child's creativity, you are truly appreciating and nurturing his curiosity.
By taking a moment to look at your child's work, don't just focus on what he made but focus on what he was thinking while he was doing this.
Celebrate his or her effort, not just the product. Start your conversation by saying: "Tell me more about your picture (if your child is verbal) or "I see you made so many lines on your paper or I see you are working hard to mix those colours."  By doing so, it will change the way you view creativity, just like how it changed mine.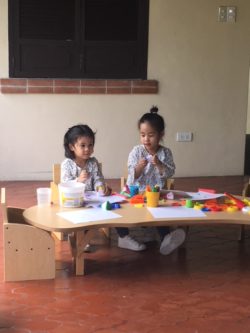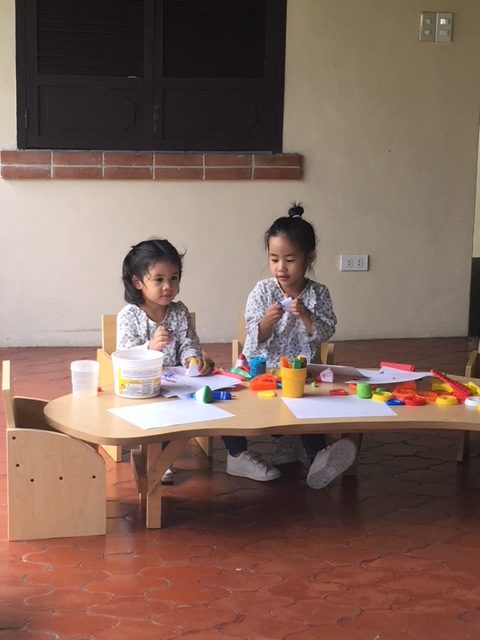 *This article is written in partnership with Ogalala World. I'm so happy to have finally found a store that advocates for learning through play, and where I can easily avail of these learning materials that I usually would source internationally. They carry my well-loved brands: Melissa & Doug, Crayola, Learning Journey and Haba. The items I shared here are available via their online store and their branches (at Ayala 30th and Shangri-la mall). To know more about their advocacy and products, visit: oga-lala.com
You can also avail of my discount using the code: FollowTTanya