At least once a year, My husband and I plan a family destination (whether here or outside the Philippines). We value traveling as this is also education beyond the walls of the classroom. It allows our children to experience what they read in their books or what they learn from school.
I remember when we were coming home from a recent family trip, our eldest daughter, Ellie was crying and she kept on saying, "Ayoko umuwi sa (our home address), I want to stay here." It was truly understandable for a child to feel that way. I, myself, wouldn't want to come home too. It was an opportunity to educate our daughters about the value of praying and being grateful for the blessing of being able to travel. We would always tell them, "let's pray that we'd be able to travel again next year." It was comforting to see that they gave a silent "Yes" with a bit of a pout. 🙂
I've always believed that traveling with a toddler, let alone two young children is a major production. Whenever I would discuss it with my mommy friends, we would all agree that planning is key. Planning doesn't just entail "the activities you'll do when you get to your destination" but it also includes the things you would bring with you.
I honestly honestly spend a long time deciding what to bring. It's just so difficult to pack for 2 children. I'm the type who would always bring an "extra" just in case we needed it. Because I'm afraid that I might forget something, I actually came up with a checklist for traveling (I'll share this in my future blog posts) 🙂
Aside from the essentials (clothes, medicines, etc.), I make sure that I always bring the following items whenever we travel.
Let me share with you my traveling essentials:
Books: I always bring with me a couple of books. I usually bring the handy-ones, so either boardbooks or the lighter ones so it's easier to pack. I also make sure that I bring along those that my children like  Or I would sometimes bring a book that they haven't read for some time. These books really help whenever we wait for boarding or even when we are just waiting for a the bus or train to arrive (in a different place).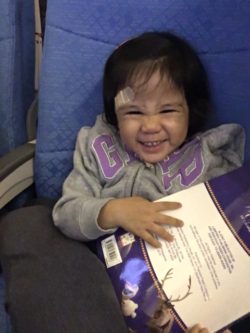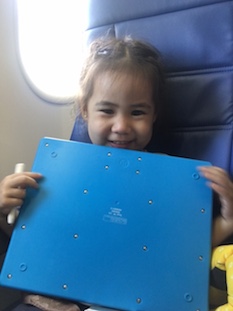 2.Activities for Arts & Crafts: I haven't ridden in an airline that  gives free sticker books or coloring books for children. That's why, I always bring our own materials just in case. Sticker books, coloring books and stamp pads really help "kill time" especially if Ellie and Julia are still not yet sleepy during flight. I also bring a pencil case filled with markers, crayons together with a drawing pad so they can just doodle, draw and color anytime they want.
3. Activity pads: A writing slate board has always been a must-item that I bring because my children can spend sometime just doodling and erasing whatever they have written on it. In a trip abroad, I discovered Melissa and Doug's Water Wow, and I love how it's literally an activity that suits those who are on the go. Just put a few drops of water, and it can keep your toddler "busy" as he or she guesses what will come out after colouring. I think I hoarded a couple of these during my trip 🙂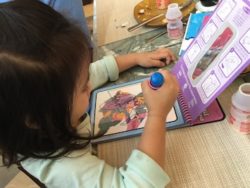 I recently found out that Ogalala World has these items on stock in their stores. It's absolutely appropriate for toddlers and preschoolers.
5.  Play materials: I bring along with me a few puzzles such as the Match and Learn Puzzles and board games to keep their hands busy. Here are just some of what I always take with me.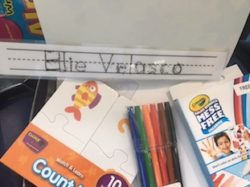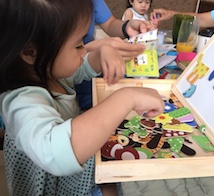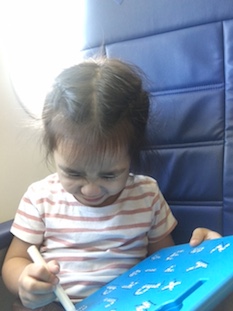 One thing I've learned whenever we would come home from family trips is that it's possible to still be "gadget-free" even when you are traveling. My husband and I agreed that we should exhaust all our efforts first in letting our children play with all the materials we brought with us before we resort to letting them watch a video from our phones. (I actually downloaded a few educational apps on my phone just in case we would use it but I was surprised that time flew so fast that before we know it, the plane has landed already). 
You can purchase the items (Melissa and Doug's Water Wow; Crayola's Color Mess Set and Match & Learn Counting Puzzles) via http://www.oga-lala.com or you can visit any Ogalala Stores (Shangri-la Mall and Ayala 30th Mall). Use the coupon code: TTANVEPLAYSF to avail of the 20% discount. 
*The 20% discount  is applied on all regular-priced items for a minimum Php 1,000 single receipt purchase