Since I have a toddler and a preschooler already, I now carry a much lighter bag whenever we go out of the house. Gone are the days when we'll bring so much in our baby bag (hehe). There are a few basic things that I make sure are inside their bags and I'd usually ask them to put these items themselves (it's good to start teaching them this early).
Aside from the usual things (extra clothes, a jacket, baby wipes, water tumbler and some snacks, etc.), there are learning materials that we bring along with us. These learning materials come in handy whenever we eat out, we are stuck in traffic, or we are waiting for our turn at the pedia.
Books: I ask Ellie and Julia to choose a book (1 or 2) that can fit inside their bag. It would usually take a long time for them to decide what to bring along with them, but that's really okay. I make sure that they choose the books because it means they are really interested in it so it will keep them focused while we are eating or waiting. I highly recommend that you invest in good books that can come in handy when you are going out.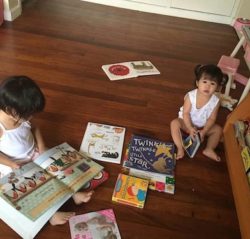 2. Coloring Materials: We stuff them all in a ziplock or a handy pencil case so we can easily take them out. I also recently discovered that my daughters like arranging their crayons or markers inside the box so I've brought along the box with us too. Sometimes, it gets quite messy (and it's not good when you're doing your activity on the restaurant's dining table or on couch outside your podia's clinic) especially when we are using markers so when I was given the Crayola Mess free set, I was more than happy to give it a try.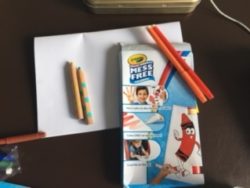 When we tried this marker (which comes in a special paper), I noticed that Ellie was encouraged to wait, and since the color will only come out once you try it on the special paper, Ellie kept on guessing what will happen next. I also wanted to see if it was mess-free since we've tried products that would interrupt our activity because I have to clean up the sudden mess on my children's clothes or on mine. Happy to say that Ellie and I had more time to focus on colouring and I didn't have to worry about the stains. It also is very handy so it can readily fit inside Ellie and Julia's bags and even in the stroller pocket.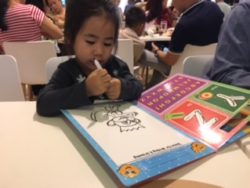 3. Paper and a small drawing pad/notebook. I realized that not all restaurants are really kid-friendly (they always don't have crayons and paper for children), so I thought of bringing our own drawing pad so Ellie and Julia can doodle on them. Sometimes, when we are in a hurry, I just bring a blank bond paper (maybe 2-4 pieces) and stuff it inside the bag. If they get tired from doodling, they usually ask us to draw their favourite characters and tell a story while drawing. Since Ellie is almost 4, I also bring with us a workbook where she can practice writing her letters, as well.
4. Other items would include a sticker book, or those that you can buy from the department store, or what your pedia gives you as prize (hehe). My go-to place for cheap stickers used to be shoppersville supermarket (because they have lots of stickers there) but since it's no longer around, I found some stores at the U.P. Shopping Center selling some stickers too. I also include a small stamp because my daughters just love decorating anything with stamp (even our hands hehe).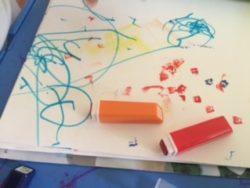 *If you want to try the Crayola Mess-Free set, you can get it online via www.oga-lala.com and get 20% off your purchase using this code: TTANPLAYSF or you can visit any Ogalala store (Shangri-la Mall and Ayala 30th Mall)