This week on my blog, I'm featuring Teacher Lovie. She's a reading coach, a storyteller and a bookworm. She is a graduate of B.S. Family Life and Child Development and she recently earned her M.A. in Education (Reading) from UP Diliman.  Having worked with children both as a teacher and a reading coach, I asked Teacher Lovie for tips that she can suggest to parents so they can support their child's language development (even starting from birth).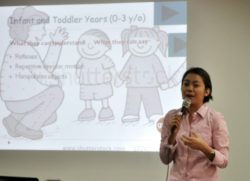 1.What should parents of young children need to know about developing pre-reading skills for their babies and toddlers?
First, parents should be aware of the developmental characteristics of infants and toddlers. When they know what their child can naturally do or not do yet, they will not force children to perform tasks that are not yet appropriate for their children.
I always encounter parents who want their 2, 3, 4, or 5 year old to read. That is not age-appropriate. At infancy and toddlerhood, children are developing language skills that is one of the key foundations of reading, and more broadly, literacy skills.
   2. What should they do in order to prepare their babies and toddlers for     age-appropriate language development activities? 
The best way to develop essential literacy skills is to allow them to play. Let them explore the world around them. Play gives them the experiences that they need to make sense of the world, and eventually, make sense of text that they read. That also means lessening or totally avoiding the use of gadgets. Let your children feel the grass, run around, climb trees! Let them pretend to be anything that they want to be. Do not confine them in front of the screen. There's a whole world for your children to explore!
Here are some ways that you can support them:
a. While they are playing, constantly talk to them. Through that, they develop phonological awareness, or awareness of the sounds of language, which they will make use to decode letters and words that they see.
b. Expose them to a lot of books and print, and let them experience the world of print. When I say experience, what I mean is that you should allow them to handle books. How will they like reading if they have limited things to read, right?
c.  Let them see you enjoy reading. One of the most effective ways of instilling values to children is through modelling. In that way, you naturally influence your children to do something that seems fun.
d. Read to your children every day. According to research, regularly reading everyday increases children's cognitive abilities later in life.
  3. Why is reading to your child very important? 
Reading to your child helps develop language skills that they will need to read on their own.

It allows them to explore a world beyond their experiences. They can go on an adventure in a faraway land, inside forests, and ride a magic carpet. The possibilities are endless.

It's a good bonding experience between you and your children. What could be more exciting than going on a literary adventure together!
4.  What are the guidelines when choosing a book for young children?
When choosing books, you have to remember a few things:
Choose books that are durable since infants and toddlers still mouth things. Buy books made out of cardboard printed with non-toxic ink.
Choose books that have colorful and fun pictures. Infants and toddlers are attracted to color.
Choose books that have a few words on each page. Limit each page to one to two sentences. Since young children have very short attention spans, they won't be able to listen to you for a long time.
Choose books written in different languages, which includes Filipino, English, and other regional languages in the Philippines.
5. What are the books that you recommend parents should have in their library:
My book list for infants and toddlers:
No! by David Shannon
If you give a Moose a Muffin by Laura Numeroff
Five Little Monkey Jumping on the Bed by Eileen Christelow
Goodnight Moon by Margaret Wise Brown
Bahay Kubo (board book by Adarna House)
Dumaan si Butiki (board book by Adarna House)
Masaya Ako! (board book by Adarna House)
You can check these titles at any local book store, book stores (selling second-hand books) or online via: https://adarna.com.ph
More on Teacher Lovie: 
Teacher Lovie Moneva is a Lifelong Learner. She is curious about the world, and likes to discover things for herself. She is a bookworm, and her reading list varies from children's books to research journals (She's a certified nerd and is proud to be one!). Her curiosity brings her to different places and loves travelling all-over the Philippines. Part of her learning is trying our different activities. These include running, playing capoeira, and climbing mountains.
She is also a researcher and a consultant at GURUFIRM (@gurufirm), a consultancy firm specializing on early childhood and family life.
Follow her on Instagram at @teacherloviemoneva