It's been almost 9 months of being in this new normal. How are you doing? how are your children doing? I hope you are safe and well.
My children have been my source of encouragement- they are the most resilient, the most flexible individuals in our household. They have been teaching me so much.
I have always wondered why and as I observed throughout these past months of being lockdown at home, I could truly say that play has been our family's ally throughout this pandemic. Indeed, there is power in play.
If not for play, I would have grown so restless, tired and lost as a parent. If not for play, I wouldn't be able to manage my multiple roles as a mom, wife, parent, home maker, teacher, add to that, attending to our newborn, Nathan. It gets crazy as always, and each day is so unpredictable but if not for play, my children wouldn't be healthy- in all aspects of development. And that goes for me, too. No wonder, David Elkind, one of my favourite child development experts, wrote: "Play is our need to adapt the world to ourselves and create new learning experiences. Play is not a luxury but rather a crucial dynamic of healthy, physical, intellectual and socio-emotional development at all age levels."
Because of the many positive outcomes of play to a child's life, I organise my children's day around the value of play. Since they were younger, we have created a basic routine for them, more like a schedule that they can follow. Doing so sets the rhythm for their day, it gives them a guide to know what will happen next, what is expected from them, etc. It makes everything more predictable, easier for them and easier for me, too. We plan around their basic routines such as: self-care activities (taking a bath, brushing teeth; learning activities (arts and crafts, storytelling); and play activities. It also includes some daily household chores that they are involved with such as: gardening, cleaning their toys and dishwashing, etc.
How do I organise my children's day?
I involve my children in organising our schedule. We discuss about the things they like to do and what they want to help us with at home. We usually write our schedule in a paper and then post in their room- but through time, it usually gets ripped off. When Ogalala sent us this Responsibility chart- it has made our schedule more readable and easier to change per week. Julia took upon the responsibility of checking their tasks and making sure these were completed. She looked forward to marking her tasks with the magnetic cards labeled with positive words such as: awesome, super, etc.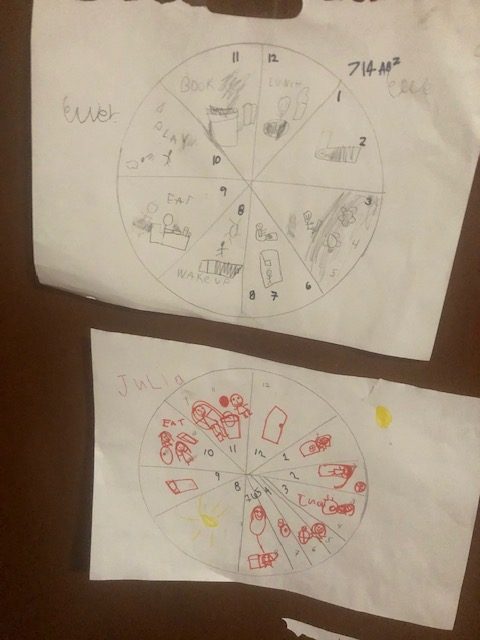 Ogalala World has come up with the "Ogalala Learning Corner" that observes the different blocks of time that you can include in your child's schedule. These are the following: active time (time for outdoor play, play-based activities); chore time (time for household chores that are child-appropriate- you can involve the child or for younger children, you can expose them to these household tasks using simple play objects); and creative time (time for activities that encourage one's creativity and independence through arts and crafts, puzzles, etc.) This is a good guide to begin with in planning your schedule. Reflect on the activities that are applicable to your family and add on to that.
With our family, our day begins early. Having a newborn, I think, has reset our schedule (making us wake earlier than usual) but that's okay. 🙂 Our children do simple chores upon waking up- fixing their bed, packing away some toys they played or books they read upon waking up. We eat breakfast and if they don't have online classes, their mornings are usually spent for free play- they chose the activities they want to explore- whether it's doing some art activities, being outdoors- feeding our pet turtles and fish, or doing simple gardening, and helping me with some chores (like cooking or cleaning their toys). After lunch, they spend more time inside their room- they play dress up, play puzzles and blocks, or draw some more. Late afternoon, we go outdoors- where they ride their bikes, play ball, etc. Other caregiving routines follow- taking a bath, brushing their teeth, and we end our day with storytelling and a prayer.
Our children, thankfully, need minimal supervision now, maybe because they are a bit older, and mainly because earlier on, we exposed them to independent play, it took a lot of "letting go" of the idea that we need to constantly stimulate them, and instead, trusting that they can engage themselves. That's where PLAY comes in. We have seen the benefits with our children now that they are 5 and 6, and we know that it's something that we want to do with our newborn, too.
When it comes to organising your child's schedule, you also have to keep in mind your own schedule as well. If you are working from home, it gives your child/children a reminder that there will be times when you can't be there fully as you need to attend work tasks for this specific time. If you have a newborn or an infant like us, you also need to adjust your schedule and make it more individualised, meaning, you need to understand that your other children's schedule will be different from that of your infant. Our newborn's schedule is very different from that of our older children- Nathan sleeps at a different time, feeds at a different time but during those times when he is awake, we give him the space to play by himself, play with his Ates and play with us. We find a common time in our schedule where we can all play together (including our newborn)- so that would probably look like, Nathan, being on the mat, while we play alongside him.
Simple lessons that I have learned in organising our day are the following:
1) Make sure you discuss the schedule with your child.
2) Make sure you are consistent when it comes to following your schedule.
3) Be flexible as well- if you think it's not working or you need to adjust it.
4)Learn to listen to your children and to observe them as well to see how the schedule is working for your family.
5) Look for opportunities within your day that you can be fully present with your child. (whether this is through playing with them, cooking with them, or reading a book with them).
This new normal has transformed our lives. It has given us more time to be with our family, change the way we perceive our health, appreciate the simplest of things and embrace the good in slowing down.
As a parent, my prayer is that the time we get to spend with our children day in, day out- we get to appreciate more, we get to value more and we get to be grateful for.
*This article is written in partnership with Ogalala World. You can check out their items via their website: https://oga-lala.com and via Lazada: https://www.lazada.com.ph/shop/ogalala You can also check them online via their FB page and Instagram: Ogalala World